Hey everyone! Did you know that KFC has a bar here in Japan? Since I was a kid, as a huge fan of KFC China's mascot QiQi, I never could have imagined KFC fitting with a bar atmosphere.
KFC China's original mascot (QiQi). He's quite popular among young children.
Although this KFC bar fusion never crossed my mind, Mr. Chop's Sakamoto took to Takadanobaba in Tokyo for a little surprise.
Here it is!! The rumored KFC bar!!!
As I mentioned above, we visited the Takadanobaba location. I have to admit, it seems a lot more stylish than a typical KFC.
Alright let's check out the inside.
This kind of KJC has got to be such a rarity in Asia.
We were immediately greeted by Colonel Sanders on a blackboard. 
There were various kinds of alcoholic beverages along side a cute miniature Colonel.
 If it weren't for the KFC logo on one of the taps, you would think you were in a
typical bar.
We decided to go with a hyball for the first drink.
 TIPS: Do you know what Japanese typically say before drinks after work?
You might be thinking かんぱい!But actually...
おつかれさま!(otsukare sama) is more natural.
We already got our drinks but bar snacks are essential!
It's KFC right so how about some fried chicken? NOPE
Of course they have the regular stuff on the menu, but most of it is original recipes.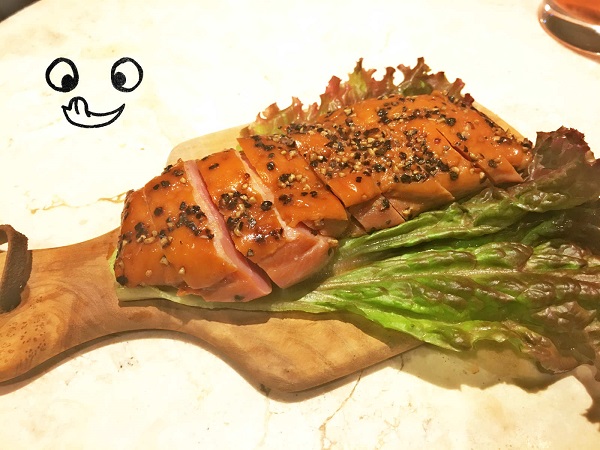 Sliced Smoked Chicken Breast 480 yen (US $4.30)

This is my number one recommendation. Black pepper decorates the smoked chicken 
and really brings out it's aroma. And at only 480 yen, I can't complain.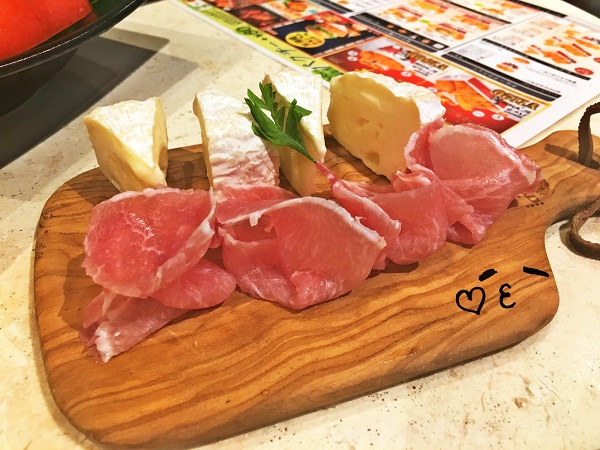 3rd place has to go to the Raw Ham with Camembert Cheese plate 380 yen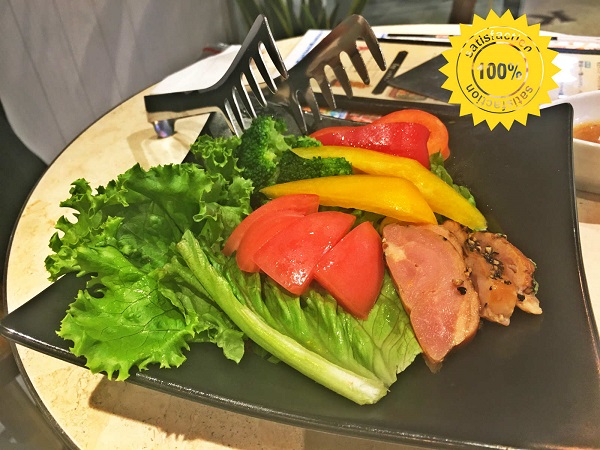 Chef's assorted salad 360 yen
Of course we also ordered the standard filthy delicious fried chicken.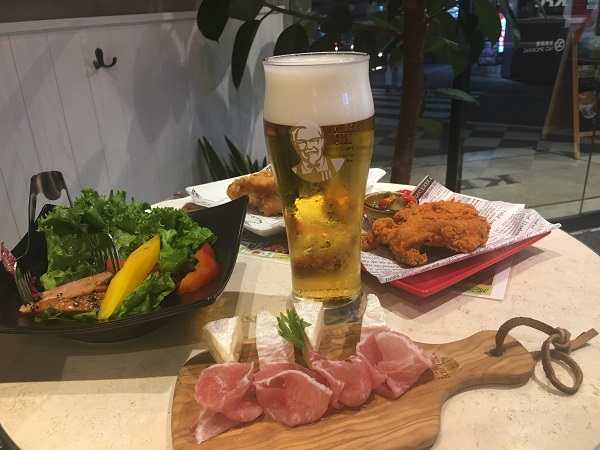 Warning
The Takadanobaba location operates differently than a regular KFC. They have a completely different menu for breakfast and lunch. Also the bar services open from 5 p.m.
This is the definition of a refined adult KFC
Currently the KFC bar only exists in Japan! Last year, Osaka and Tokyo's Akabane locations also opened a KJC bar. In other words, there are only 3 KJC bar locations in all of Japan.
Additionally although there are many bars in Japan that have a certain atmosphere that makes it difficult for foreign tourists to enter but the Kentucky bar really has a welcoming, bright and classy environment.
As a place in Tokyo, Takadanobaba is a place frequented by foreign travelers, and now with one of the 3 Kentucky bars in the world, it should make for a fun night out.