Have you ever stayed at the capsule hotel?
Capsule hotels are hotels that provide beds shaped like capsules (box-shaped).
As this style of hotel can only be found in Japan,
its uniqueness makes it very popular with foreigners.
Amongst these hotels is the Business Inn New City
which has various themed rooms including ninja themed rooms,
and anime themed rooms, both of which are very popular and soon become fully booked.
Why do Japanese people stay there?
But it seems to be interesting like the secret room!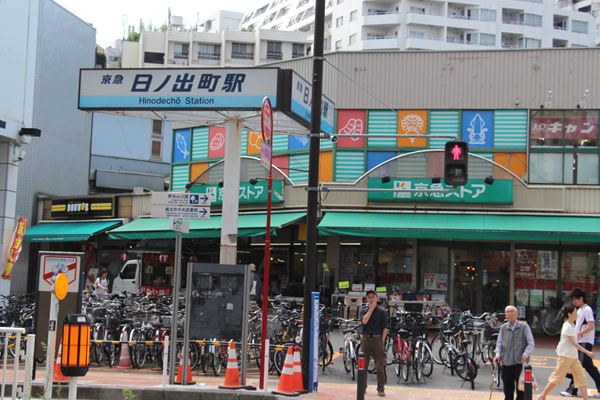 Here is Hinode-Cho Station in Yokohama.
It is the 2nd stop from Yokohama station.
You should ride on a local train which is called Keikyu-Line.
( You can also come from Sakuragicho station and Kannai station of JR line. )
First of all, check in at the reception desk.
Check-in:: from 15:00
Check-out: Until 10:00
The reception in English was smooth because many foreigners came here.
You can stay here without reservation, but you should reserve a room because you can stay certainly.
Next, you choose the type of the rooms which you stay.
I was interested in Ninja's rooms, so I chose it.
( An overnight stay is \4,000 )
After you paid fee, you get a key band from reception staff.
It is a locker key, so be careful to lose it.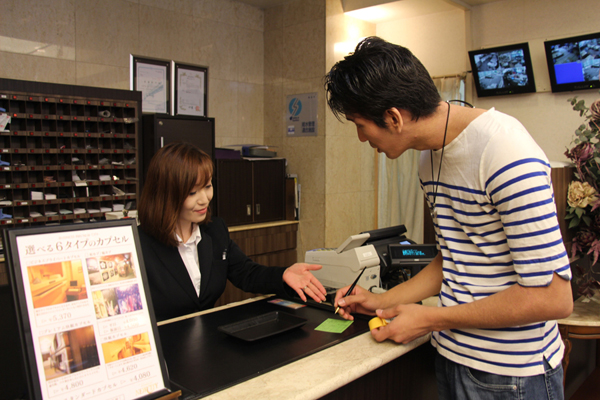 Sorry, I forget to tell you the most important thing!
This hotel is only for men, so women can't stay here.
I'm so sorry.
And tattoo is also forbidden. This is Japanese culture,
but the hotel staffs lent me a tape, so if you hide it all, you can stay here.
Let's go to the room.
Teleportation like a Ninja!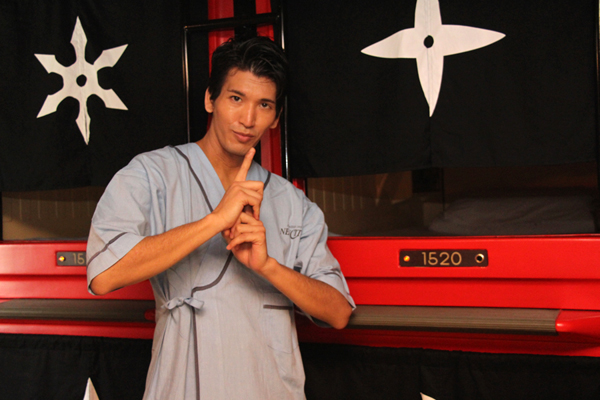 Success!
And I changed pajamas before I knew it.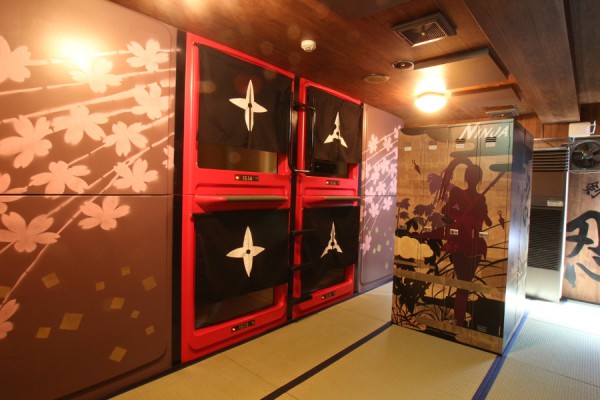 Can I sleep here?
The floor is covered with the tatami and it is truly Japanese structure.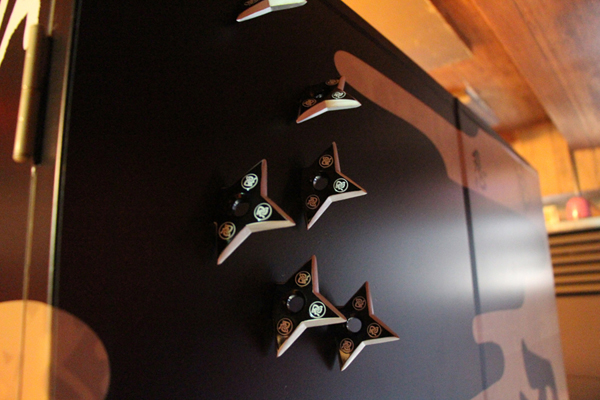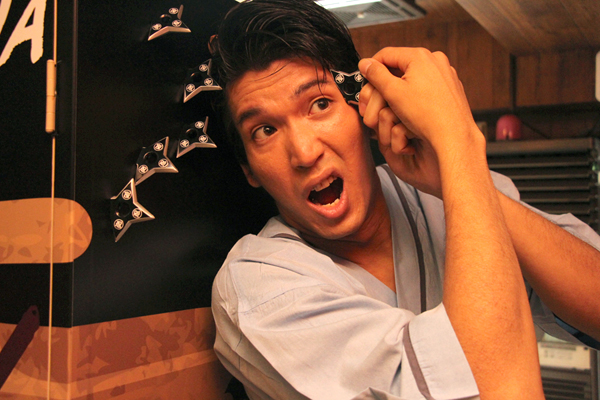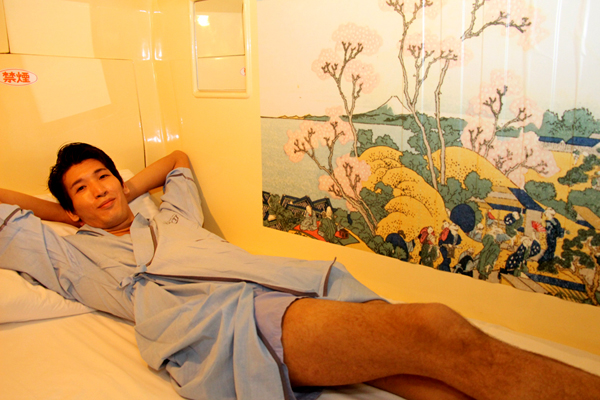 Comfortable!
Although it seems to be narrow from outside, I (height of 186 cm) am not narrow, either.
I also feel like being in the cock pit.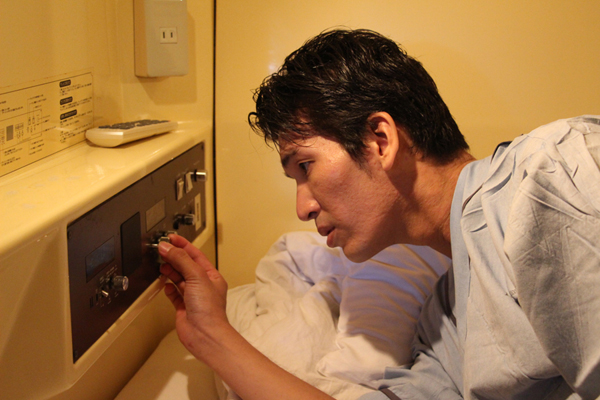 There is television also in such a small room.
The brightness of the room can be adjusted.
It is terrible for claustrophobic people.
The key was not attached to the bed, but I wasn't worrisome because I shut curtain.
 Finally, The manager showed me the best room.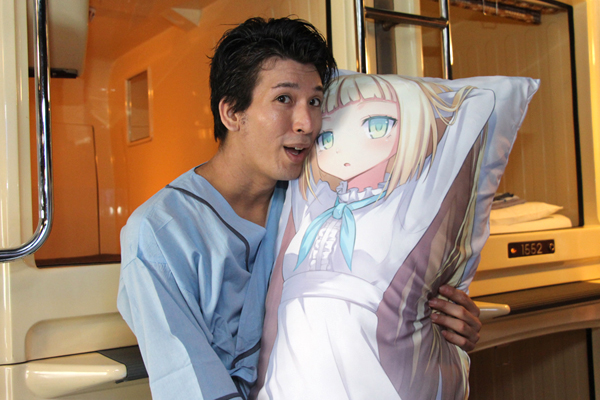 If you like anime characters so much, you can have the best dream!
If it is not the reserved room, even when it is vacant, you will also change the room on the day.
I want to stay anime room, but I also want to stay Ninja room…
After the manager introduced the rooms, I took the bath.
I couldn't take pictures, but cold plunge is the best after taking a sauna.
I think the bath makes me hot, but I'm surprised how to enjoy taking a bath like this.
(In mother country Brazil, when I catch a cold, I take a cold water bath.)
After taking a bath, I drank beer at the restaurant.
You can eat Japanese food, Western food, Chinese food, and more!
I knew that later, there was an interesting shop which foreign people enjoy on the firstbasement in this hotel.
It opens until 5:00 am・・・ Please tell me more quickly!
Let's go there, too!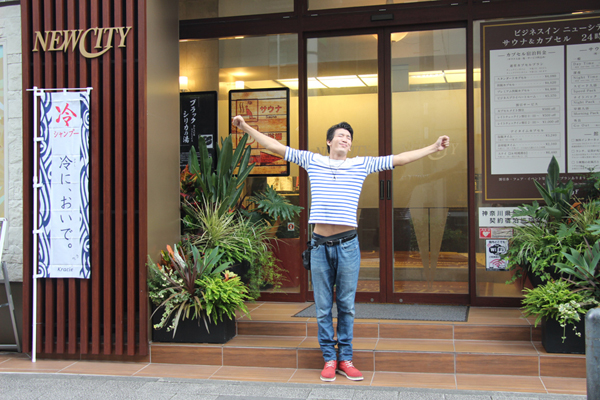 I checked out by 10:00 a.m. on the next day.
This hotel isn't big, but I enjoyed so much because it clogged many things of "Cool Japan".
If you will come to Yokohama, you should stay here!
I recommend to people who want to use the capsule hotel and stay reasonable.
I do recommend… staying anie rooms!
*BUSINESS INN NEW CITY  (Men only)
Address
53-3 Nishidori Fukutomicho, Naka-ku, Yokohama 231-0042,Kanagawa Prefecture
Access
By train: 3min walk from Hinodechou station of Keikyu Line
8min walk from Kannai station of JR Line / Blue Line
By car:5min from Minatomirai Ramp(EXIT) or Yokohama Park Ramp(EXIT) of Metropolitan Expressway
Check-in:: from 15:00
Check-out: Until 10:00
*Plan of Capsule Hotel
Themed capsule hotels: 4,000yen ~ (tax included)
Standard capsule: 4,080yen (tax included)
Premium capsule: 4,620yen (tax included)
Extra- premium capsule:  4,800yen (tax included)
BUSINESS PRIVATE ROOM: 5,370yen (tax included)
※Luggage Storage
200 yen a night
* Public bath
Day Time – 2,160 yen (tax included)  – add 1,080yen for extension 24:00~ 10:00)
Night Time – 3,240 yen (tax included) – add 1,080yen for extension 10:00~12:00)
Speed Pack 90 min  – 1,290 yen  (tax included)
Night Pack  22:00 ~ 10:00 – 2,160 yen  (tax included)
Morning Pack 4:00~ 10:00 – 1,080 yen (tax included)
Go out – 540 yen (tax included)