What Japanese foods do you like the best?
Sushi? Ramen? Tempura?
Some people may like Yakitori too!
Yakitori is eaten as the taste of common Japanese from the past,
so everyone can enter the place easily and freely,
and you can see the yakitori in the festival too.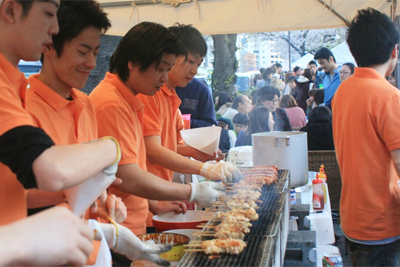 The high-class restaurants that order yakitori with expensive wine are getting increase,
but we would not like to introduce like that kind of restaurant today.
SOSOYA~Yokohama~
Moreover, the target customer of this place is foreigner.
Here will be opened soon, so we ask to research here.
Of course we got OK for coverage,
but they wanted us to help to take a promotion video, so we said OK!
Therefore, we went there as coverage and video shooting with these 4 people.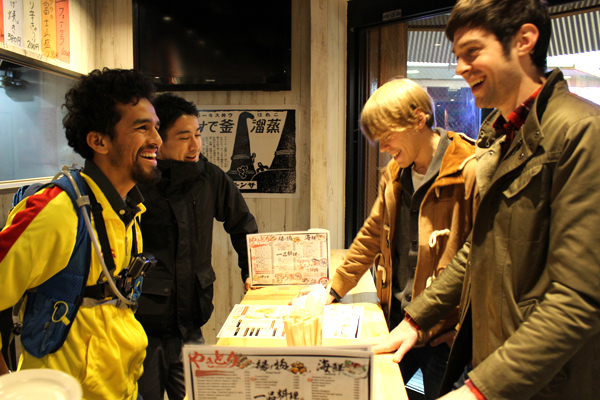 Heladio (US), Akira(Japan), Fred(Sweden), Matt (US)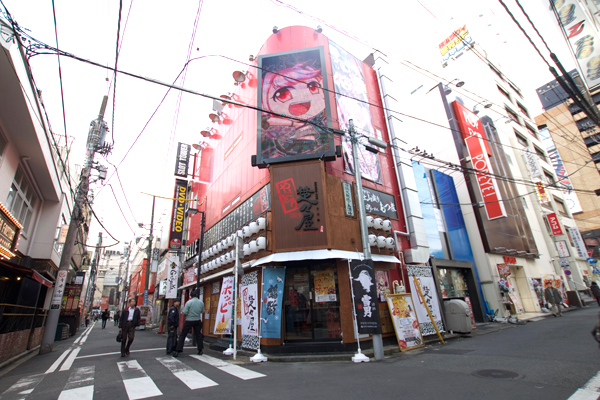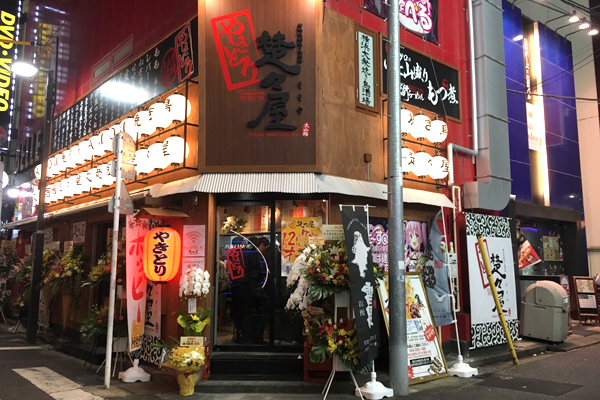 3minutes walk from Yokohama station, and little bit fancy building is "SOSOYA".
(What is the upstairs hmm…)
When we enter the inside…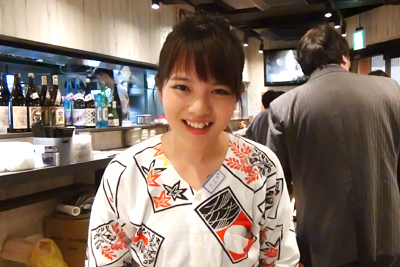 "OKAERINASAI" means "welcome back" in English.
For your information, normal restaurants usually says "IRASSHAIMASE" (May I help you?)
But in SOSOYA, "OKAERINASAI"
We asked why SOSOYA welcome customers like that,
and they answered that SOSOYA want to be the customers' own house
and be second home before customers go back.
I feel it is so warm.
When the customers leave,
"ITTERASSYAI". It means "take care".
We felt high level of "Omotenashi" which means hospitality!
Well, this SOSOYA is the traditional store of standing bar while eating and drinking.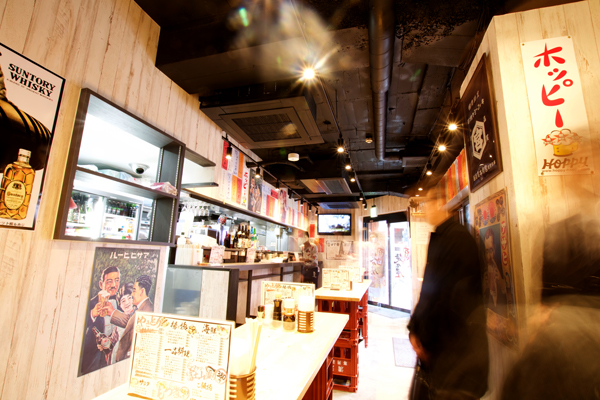 The standing style store is likely to be small.
Therefore, because customers will be hard to get in
if they have the seats
or there is the customer who drinks just one drink on the way back home,
SOSOYA became standing style.
It is going to be tired!!
That is you are going to say that,
but they want you to enjoy the Japanese old customs.
Instead…
It is so reasonable!
Yakitori is from 100 yen!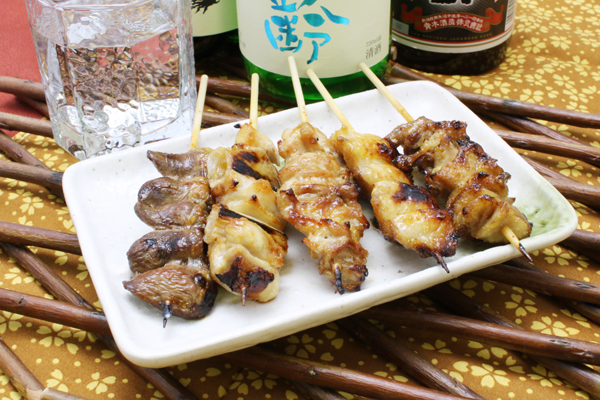 and it is delicious without doubt!
You do not think it is just 100 yen.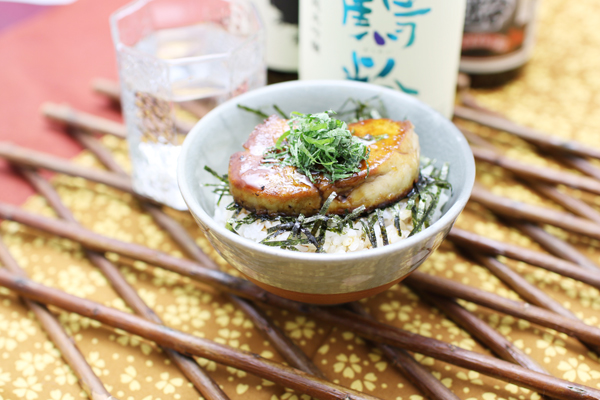 foie gras don(There is foie gras kushi)
It is so rare to eat foie gras in Yakitori place
And, the recommend dish of SOSOYA is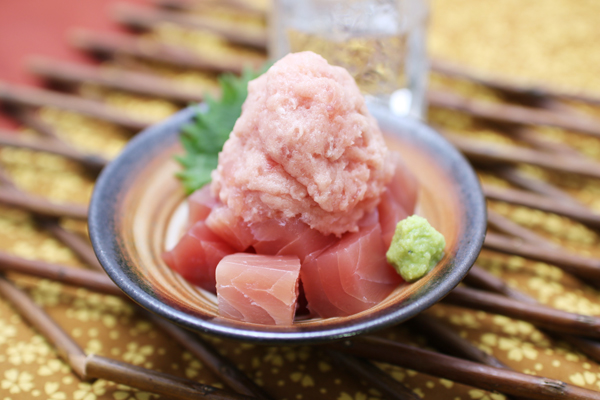 It expresses Mt. Fuji by the tuna and sliced tuna.
We ate this with everyone and it was awesome with big volume.
You should order this for sure and this is good with sake too.
SOSOYA has wide selection of sake,
and actually there is the staff who has the license of Japanese sake.
So, Japanese sake are strictly selected.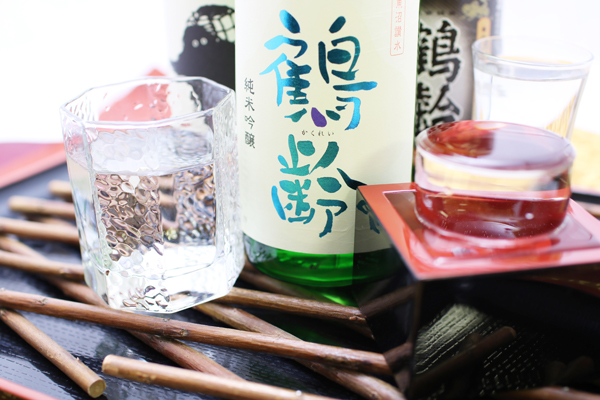 Among those sake, the recommendation is "KAKUREI"
It is actually rare one, and you can drink it only here in Yokohama.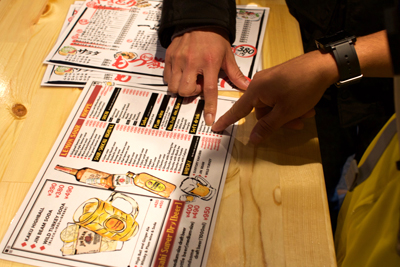 Of course, English menu is available, and the staff tries to speak English too.
These four guys are enjoying since they ordered first one, and one more friend got here.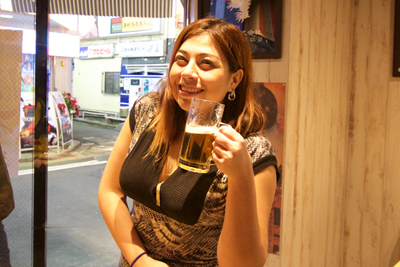 She just join to the 4 guys and have some conversation.
Then, Heladio noticed something.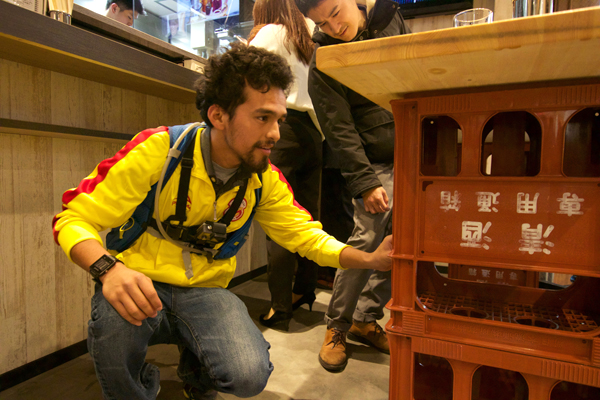 This is the beer case that liquor shop bring beers to the restaurants or shops.
It is plastic but is really hard and you can put it as the block,
so you can use it as the leg of tables.
I see, it hardly can see in the overseas.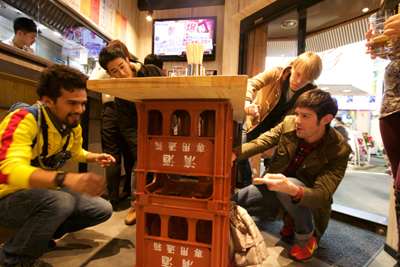 Everyone is interested in.
After that, we drink and eat like more than 2 hours but nobody tired.
(Ladies may be suffered from standing though)
Oh we totally forgot that this is the video shooting!
We just ate and drunk lol
Ok, here is the comments from them
It is about time to go.
As we introduce when entering part, staff will send you by "ITTERASSHAI"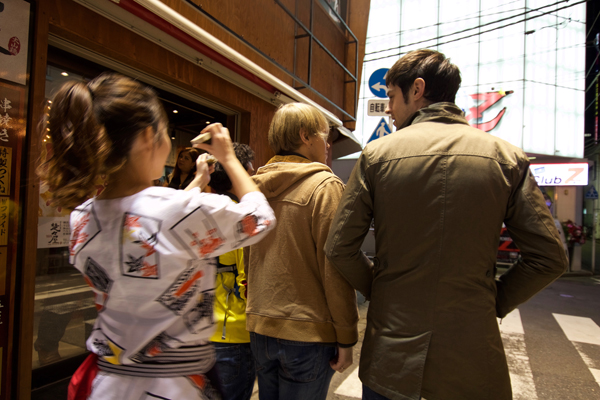 Well, what are they doing? It is kind of ritual,
and the staff hit the iron to the stone and make little spark.
This is called "KIRIBI" which is the traditional and ritualistic fire from the past
for tourists or for people who go to work.
You can see how it goes in the promotion video of SOSOYA.
How was it?
This video make you to go there?
Anyway, these 4 people became a fan of SOSOYA and they invited some friends to go there lol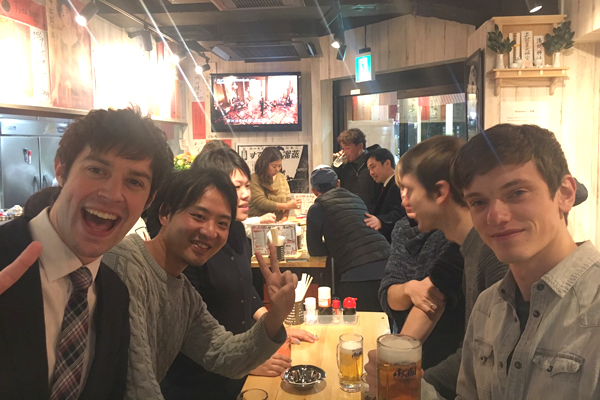 We recommend you to spend great time in SOSOYA when you visit Japan!!
<SOSOYA>
Address
1F 1-13-13 Minamisaiwai , Nishi-ku, Yokohama
Access
By train:3min walk from Yokohama station
Hours
Weekday 15:00 ~ 23:30
Holiday 12:00~23:30
Phone Number
+81-(0)45-620-6090