Hey everyone, Matt here!
One day Sakamoto suggested we all here at CJC (us two plus Rose) go do so some coverage at a Japanese ball game, and so we did! We decided on Jingu Stadium located just a few stations from Shinjuku. It was a match between the Tokyo Swallows and Nagoya's Dragons. Have you all heard of the Swallows before? I thought we would probably see Tokyo's most popular team, Giants, play at the Tokyo Dome, but once we arrived at Shinanomachi Station and after noticing Kinryuu and Sakamoto's uniform, I realized it was a Swallow's game. 
※Shinanomachi Eki is 5 minutes from Shinjuku
Off to Jingu Stadium!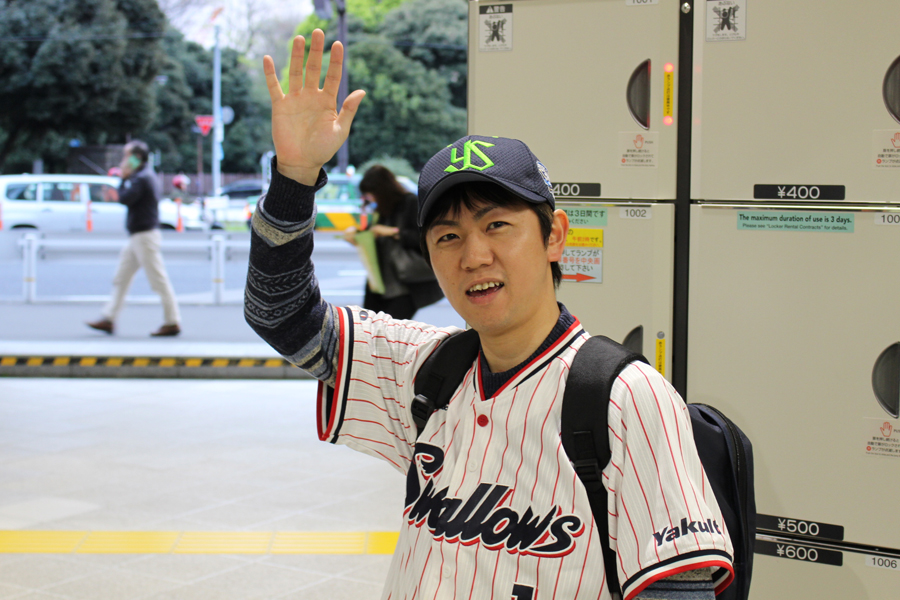 You guys are so slow, get with it!
Sakamoto is a diehard Swallows fan.. To be honest, the coverage was an excuse for him to go see the game. But it's a bit late for that now so, I'll keep my mouth shut and just follow him.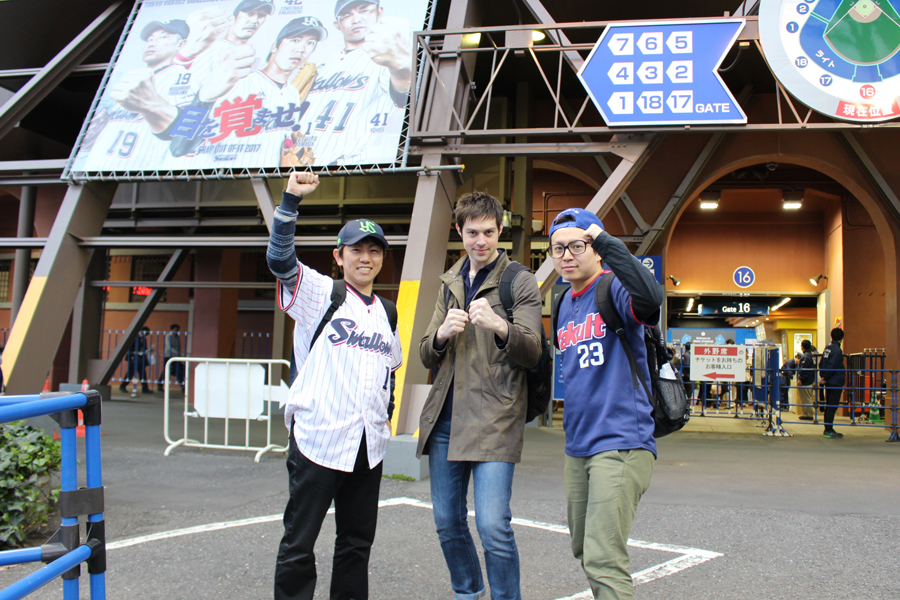 From the station it was about 10 minutes to the stadium. By the way the closest station, Shinomachi, is about 5 minutes from Shinjuku and it seems to be where most people get off at for the games. When we sat down out our seats at the stadium, Sakamoto whipped these out of his bag.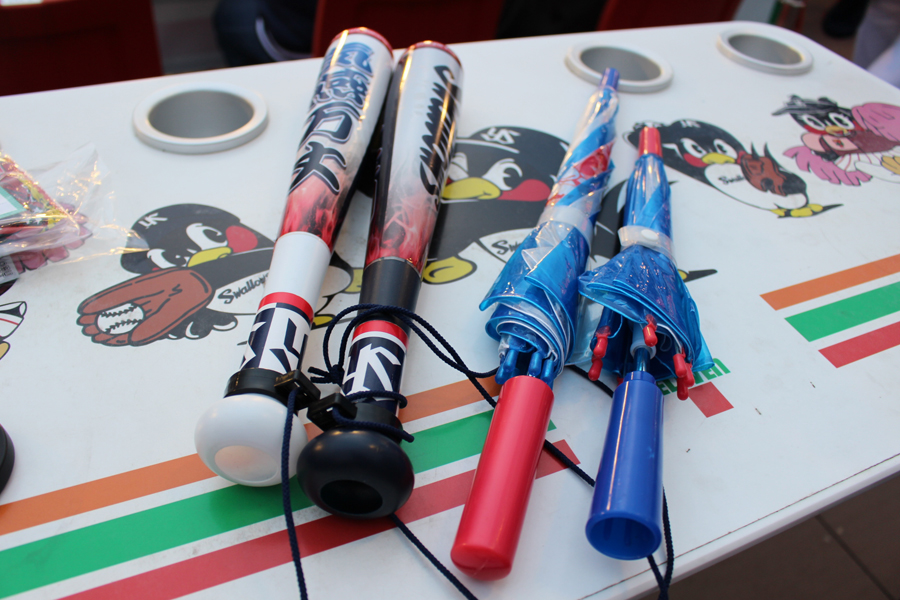 What's this for?

To the left are the megaphone bats. In Japan we use these small bats in rhythm with the cheering section's trumpets to cheer on our team's players.

What's with the small umbrella? It doesn't even seem like it's going to rain today..

This is for a special kind cheer routine you would only see at Swallow's game. Each time we get a run, we open the umbrellas and sing Tokyo's Anthem.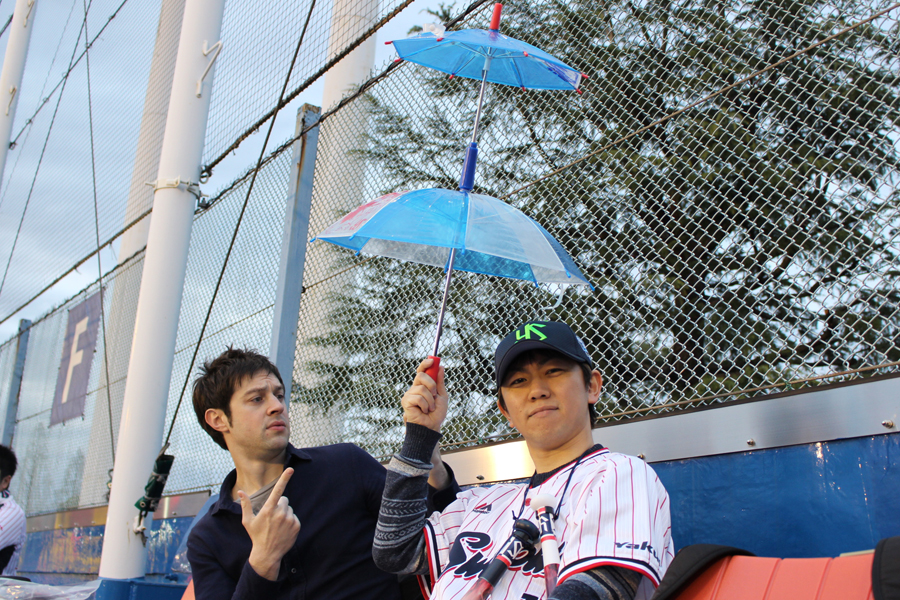 Like this.

You can even connect other ones? That's pretty cool!

I really want some of my own!

The good's concessions are in the stadium so go get some! I gotta keep my eyes on the game so you go look for it.
Yep Sakamoto couldn't care less about the coverage, he is just in it for the game.
Time to stock up on the goods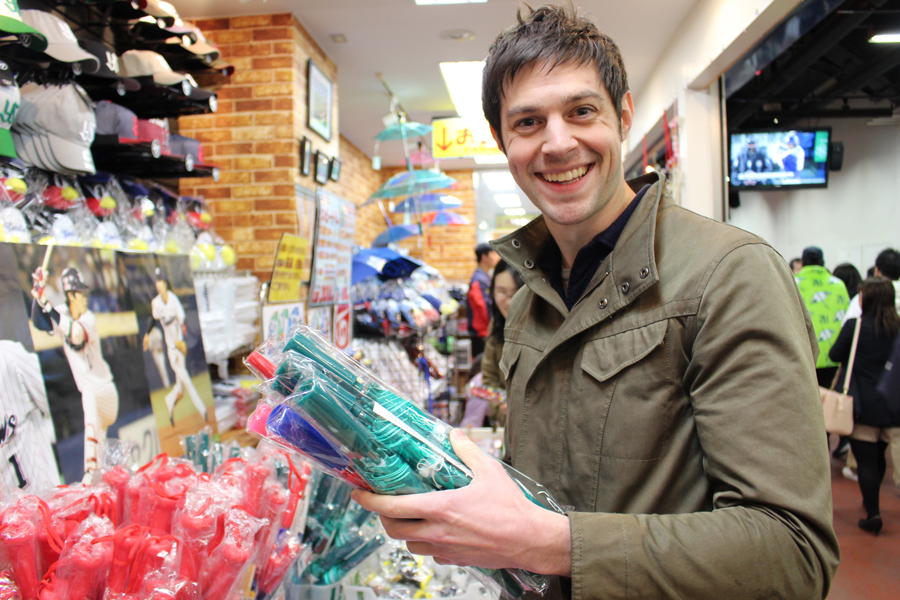 We left Sakamoto behind and ended up finding the umbrellas and at the good's concession. He said he would give us money for the umbrellas so we bought loads.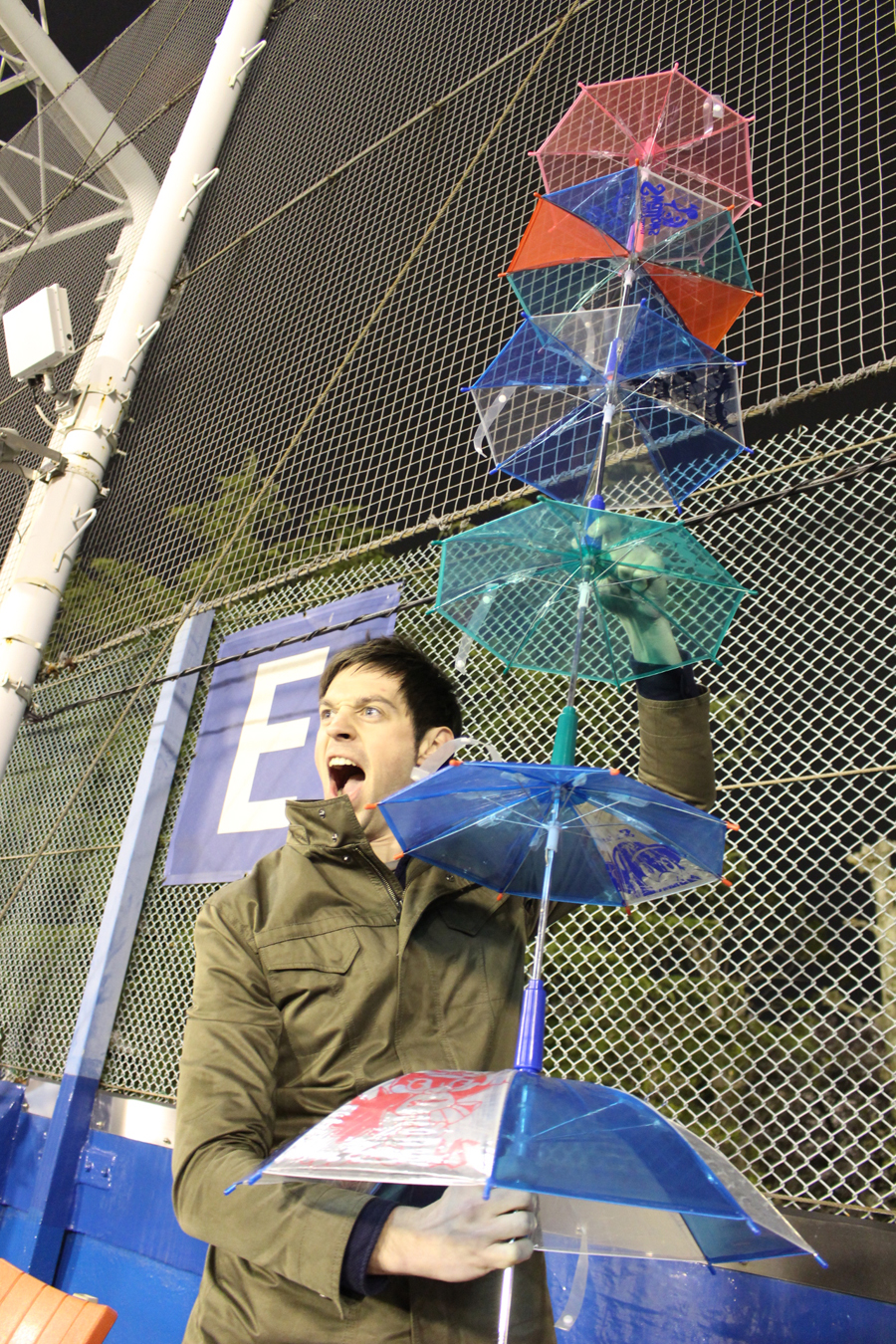 We got the umbrellas! SWAAAAAALLOOOWS!!!

You dumb ass you bought too much! If you put all them together no one can see the game!
※It's gonna be a pain for everyone around us so we decided not to get to crazy with the umbrellas.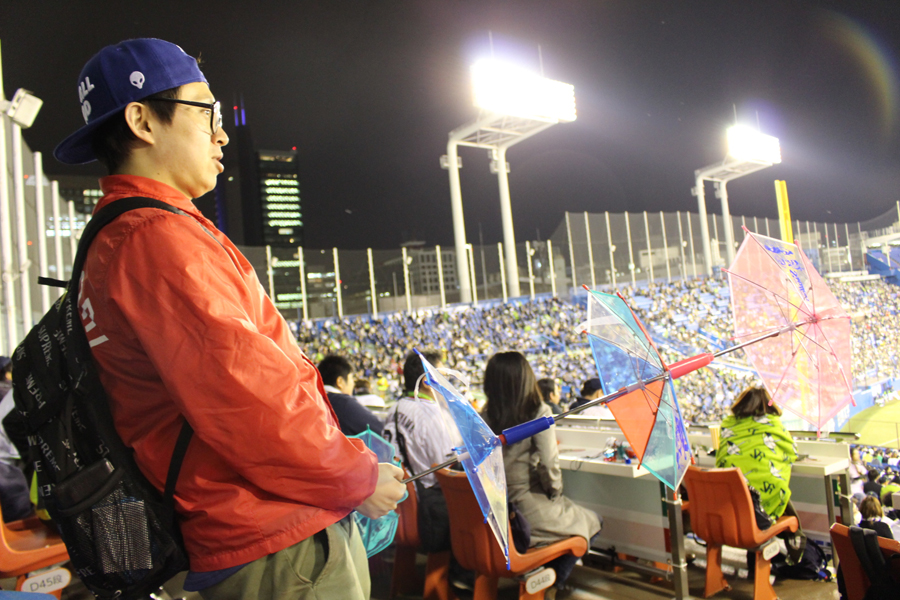 Ah Rose you're much more of an idiot.
While we were messing around the Swallows got a run!
Pretty interesting right? Even though there was no rain everyone took out their umbrellas.

By the way, why do they use umbrellas anyway?

Even now the Swallows are nowhere near as popular as the Giants but a long time ago they were even less popular, so in order for it to appear as if there were more fans, the cheering section started really pushing this new umbrella trend.

But unless they get runs it's pretty boring yeah?

Even if they don't get any runs, before they go out as offense in the 7th inning, they will definitely sing the Tokyo Anthem.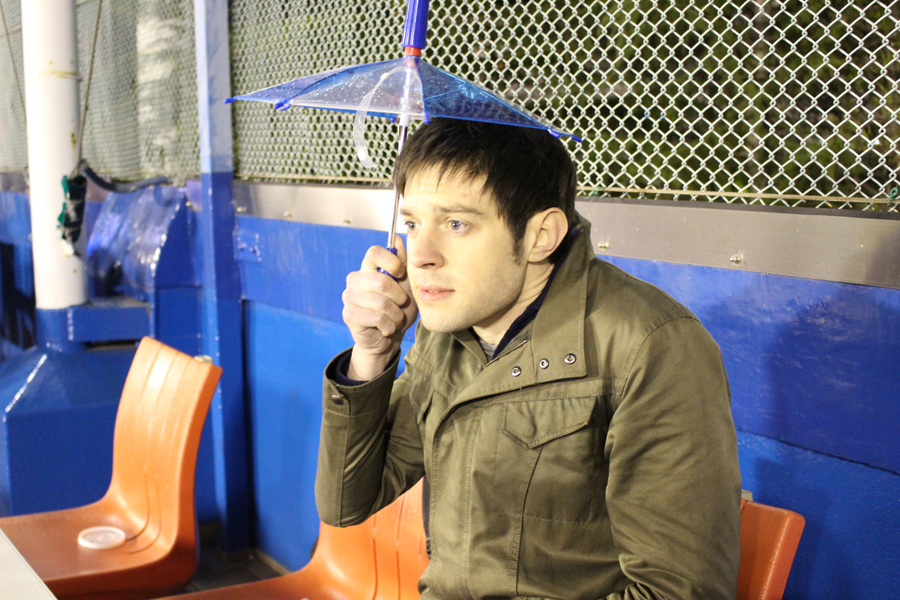 It actually started raining half-way through the game but it was just light showers so it was okay with just the small umbrella. Unfortunately, the Swallows had lost and it goes without saying that Sakamoto was quite displeased with the results.
The following day.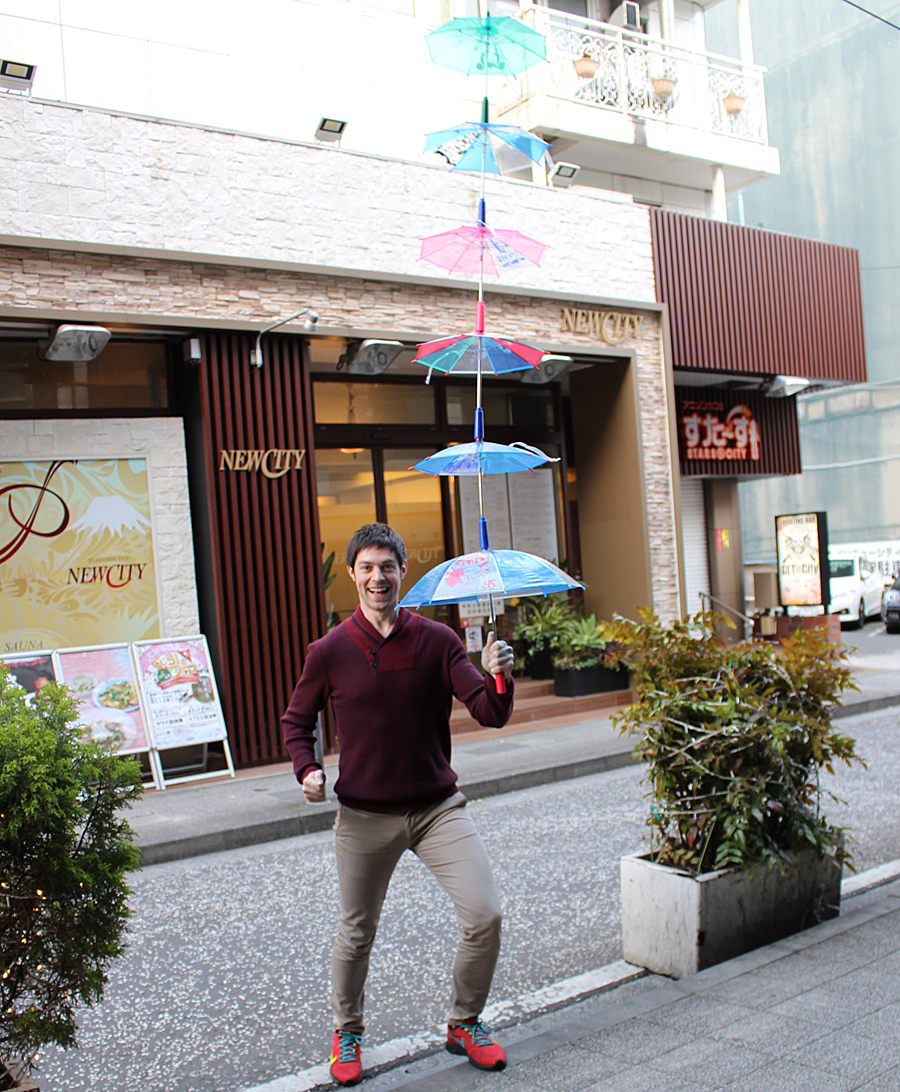 Goooooood Morning!

Hey hey what's with that? Are you really that into it?

I scored some points so I decided to bust out the umbrellas!

Points?

That's right! It's pay dayyyyy! BANNNNZAIII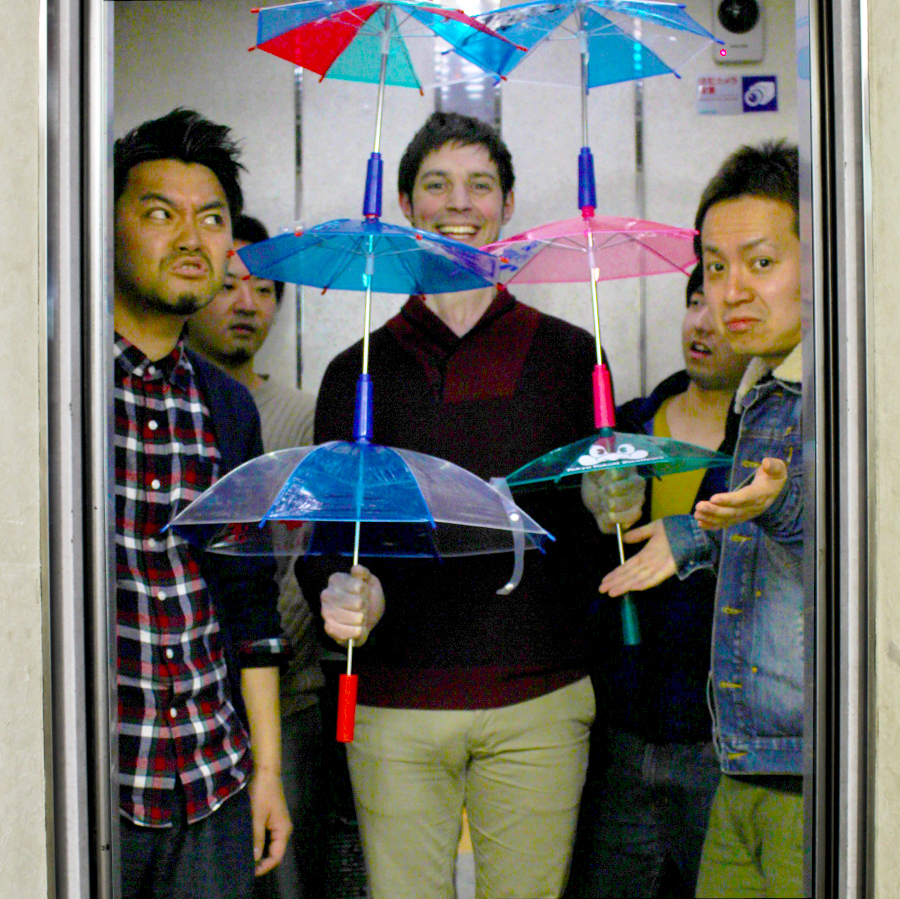 Although using them outside of Jingu Stadium is pretty annoying for the people around you, I had fun.